WordPress 5.4 displays the block editor in the fullscreen mode by default.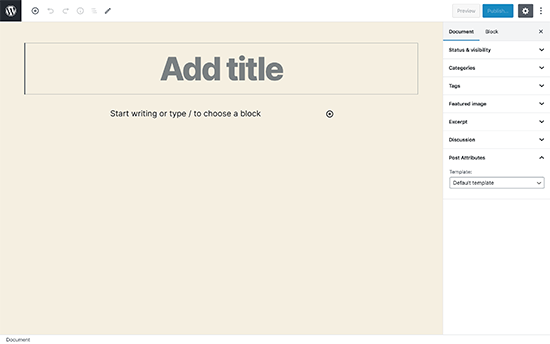 This change will be noticeable on new WordPress installations, or if you are accessing the WordPress admin area from a new device, browser, or in the incognito mode.
If you are upgrading from WordPress 5.3 using the same browser and device that you regularly use, then your editor will open with the last mode you had enabled.
You can exit the fullscreen mode by clicking on the Editor settings and unchecking the 'Fullscreen mode' option.
Update: If you want to permanently disable the full screen mode, then see our tutorial on how to disable full screen editor in WordPress.
New Blocks in WordPress 5.4
WordPress 5.4 brings two new blocks for you to use while writing content.
1. The Social Icons Block
As the name suggests, the Social Icons block allows you to add social media icons in your posts and pages.
After that, you can click on the add button and select a social network that you would like to add. You can then click on the social network icon and provide the link to your profile.
Social Icons block only allows you to add social media icons with links to your profiles. It does not add social sharing buttons. For that, you'll still need a social media plugin with sharing features.
Read more over here at wpbeginners.com